Put our skills and capabilities to work for you
At Rhema, it's all about letting our abilities in blending, capsuling, tableting, and packaging shine. Here are some facets to what we do that make us stand out from the crowd. With Rhema, your product is in capable hands.
For quality products, it's key to have a perfectly homogeneous blend.
We gravity feed raw materials directly into a variety of different styles of blenders that reduce atmospheric contact and contamination and give us the ability to mix different product types with the highest efficiencies. All blending happens according to our strict guidelines, which are set forth in our SOPs, ensuring batch quality.
Our four stainless steel blenders are validated for a wide range of natural health products and drugs. With this validation, we whip up a truly uniform blend each and every time. Our large ribbon blender has a maximum capacity of 150 cubic feet that can accommodate blends up to 2000 kg (4400 lb). We also have two large ribbon blenders with a maximum capacity of 80 cubic feet that can accommodate blends up to 1200 kg. Our medium blender has a maximum capacity of 28 cubic feet and can accommodate blends of 250 – 500 kg (550 – 1100 lb). 

Have a smaller blending job or a pre-blend? Our two V-blenders are up to the task. One has a maximum capacity of 12 cubic feet and can accommodate blends of 60 – 200 kg (132 – 440 lb) while the other has a maximum capacity of 5 cubic feet and can accommodate blends of 25 – 80 kg (55 – 176 lb).
POWDER BLENDING CAPABILITIES:
Dry Powder Blending
Pre-Mix Blending
Trituration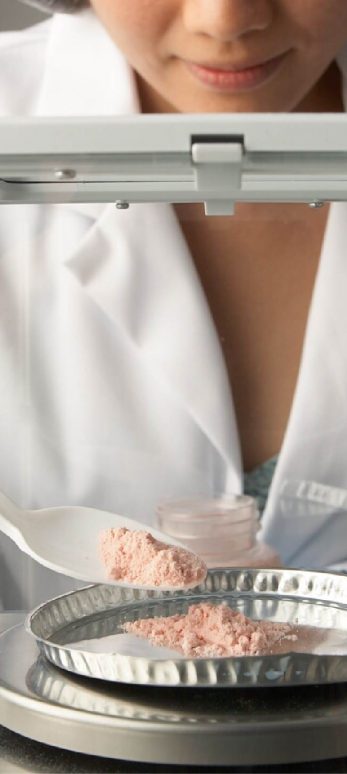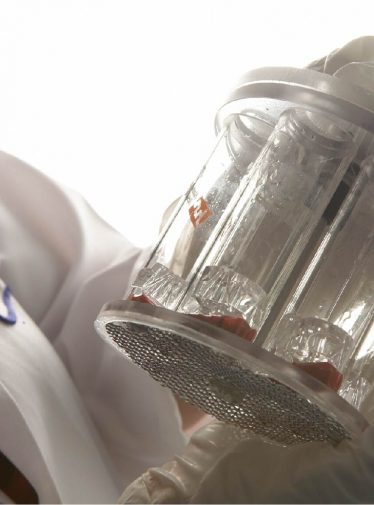 We use a specialized granulation process to change the density and size of some materials to encourage optimal flow in the manufacturing process and ensure shorter disintegration times of the finished product.
We perform wet granulation using purified water without the use of any solvents. Once wet granulated, the material takes on a paste-like composition at which point we pop it into our drying oven. Its two fans get right to work, one circulating the air and accurately maintaining the correct temperature and the other removing the humid air to boost drying efficiency and cut back on drying time.
Chilsonation is what we use when we need to increase the density of raw materials. Raw materials are put into the chilsonator's hopper and from there are fed into a roller compaction device. The rollers have grooves in them into which the raw material is compacted under high pressure. They come out the other side as thin strips. These strips (or sometimes pellets depending on what we're working with) are then milled through the appropriate mesh screen to produce a powder with just the right particle size. This densification process often allows us to fit a higher quantity of actives into the required size capsule or tablet. It also enables us to produce smaller capsules or tablets without reducing their potency. 
Ready to mix your perfect batch?
Our Online Product Builder will guide you through the critical questions required to get your project started quickly and efficiently. Give it a try.
Please fill out the Rhema Online Product Builder form to receive a quote on your custom formulation. We will respond back to you within 1 business day. We are here to help!